N.S.PRO MODUS3 TOUR 115
---
A CONDENSED COMPILATION OF THE N.S.PRO MODUS3 PHILOSOPHY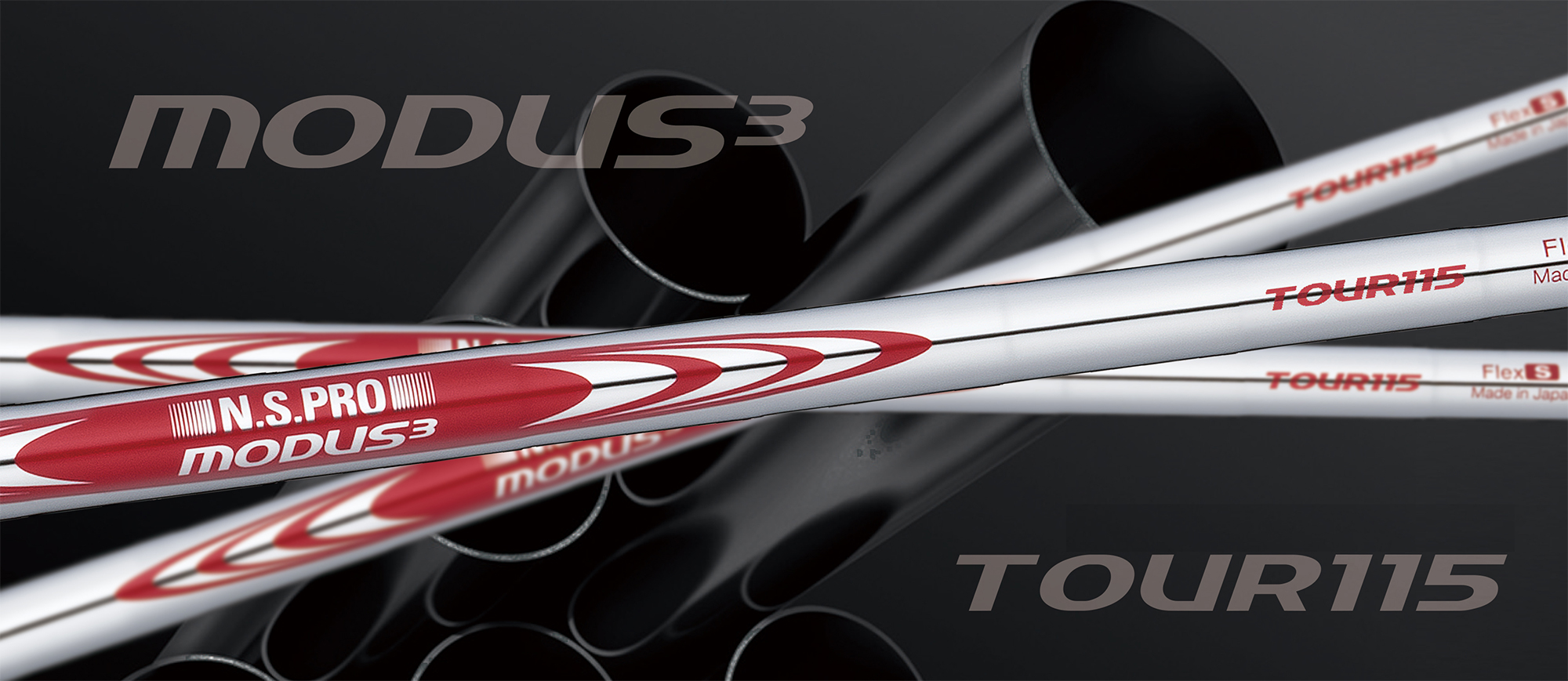 The MODUS³ series is a collection of steel irons shafts that has earned the trust of many top global tour players due to our manufacturing technologies and highest quality, and has contributed to two major tournaments victories and money rank leaders on the Japanese men's tour. The MODUS³ series has established its reputation around the golf tours worldwide and continues to play an active role.

The "TOUR115" was born on the 10th anniversary of N.S.PRO MODUS³. It is the culmination of feedback from top tour players and was created as a new standard to meet the needs of athlete golfers.

With a straightforward shaft structure that follows the performance of the TOUR105 and SYSTEM3 TOUR125, TOUR115 promotes a mid-trajectory and spin to meet the multi-dimensional needs of top tour players with controlled trajectories from the "Tour Spin" design.

In addition to the performance of the shaft with world-class design technologies, the weight of TOUR115 is set to match the standards of recent years to freely shape the needs of athletes.
High-dimensional fusion of straight-line and control performance.
---
In addition to the performance, the weight of TOUR115 is set to match recent standards. Nippon Shaft's proprietary MSA (Multi Shape Adjustment) technology, which has been cultivated through its expertise in shaft engineering, has brought about a high-dimensional fusion of straight-line performance with a tour spin design that meets the needs of diversified trajectory control.

TOUR115 has a high degree of adaptability to meet any need, whether it is to attack with shot control or straightforward trajectory.
Straightforward shaft characteristics that respond universally to the player's will
---
TOUR115's characteristics follow the swing and will directly transmit the power of the swing to the club head and ball without twisting and will respond to the player's will in a versatile manner.
There is no bias to swing type or trajectory characteristics as TOUR115 has a wide range of compatibility.
Shaft weighting to accommodate the latest club settings
---
The traditional shaft weight (125g) is a little heavy to match the weight reduction of drivers that is occurring at the top tours' level, with stability as the most important setting. However, if you are looking for a driver shaft that is a little heavier match than traditional irons (125g), the most important factor is stability. But excessive over-specification or too heavy/firm irons shafts can lead to misalignment of swing timing, which will reduce the accuracy of iron shots that should be aimed at the pin.

By setting the weight at 118.5g (S flex), "golden specs" for weight matching with driver shafts in the 60-70g range, which is becoming the standard for driver shafts, TOUR115's specifications are set to correspond to the latest club settings.
PRODUCT

FLEX

LENGTH INCH
(IRON #)

WEIGHT
(G)

BALANCE POINT
(%)

TORQUE
(°)

KICK POINT

SHAFT DIAMETER
(IN)

Butt

Tip

N.S.PRO MODUS3 TOUR 115

R

41~37(#2~#W)

GRIP

15.24

9.02

S

118.5

50.1

1.6

X

119.5

50.1

1.5