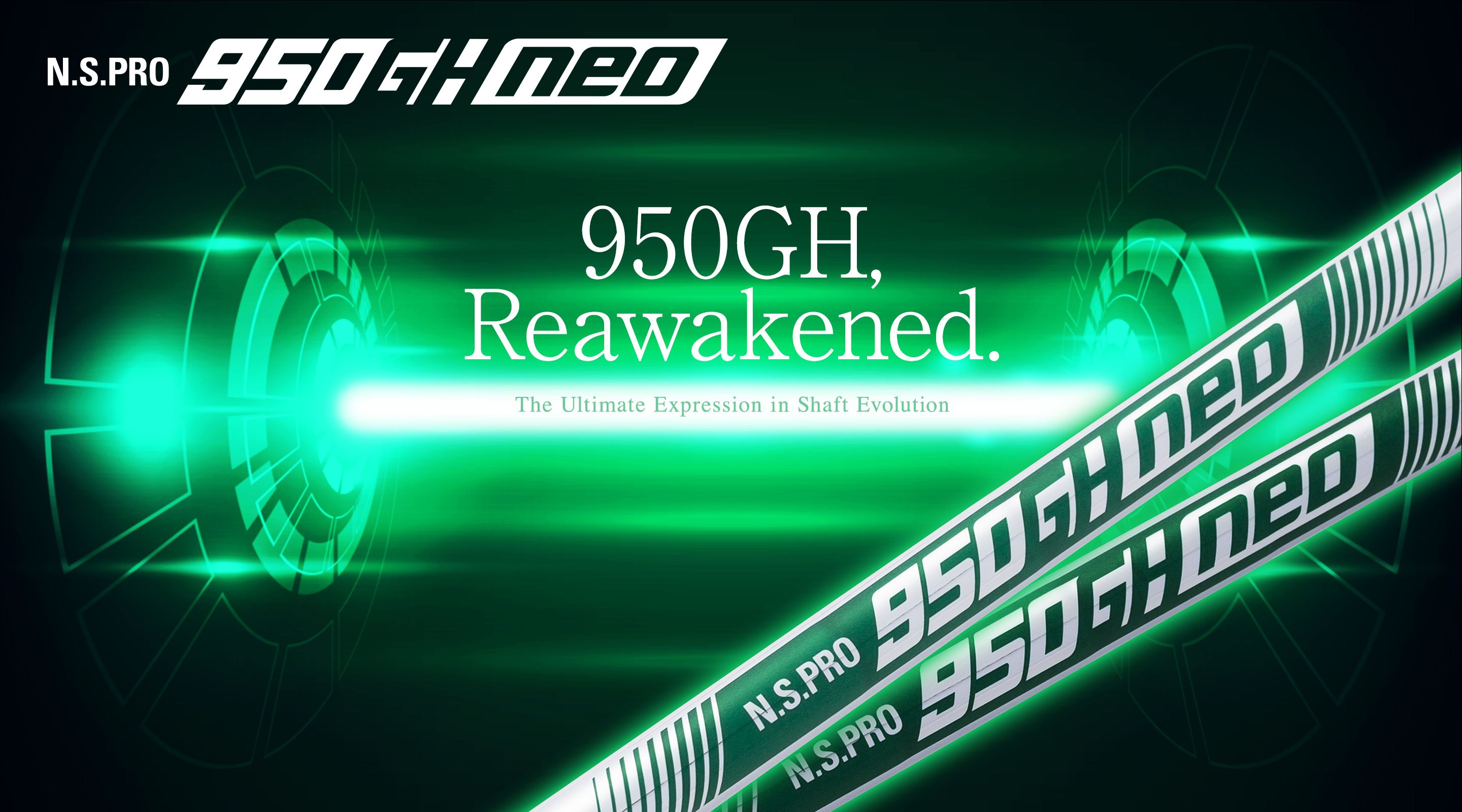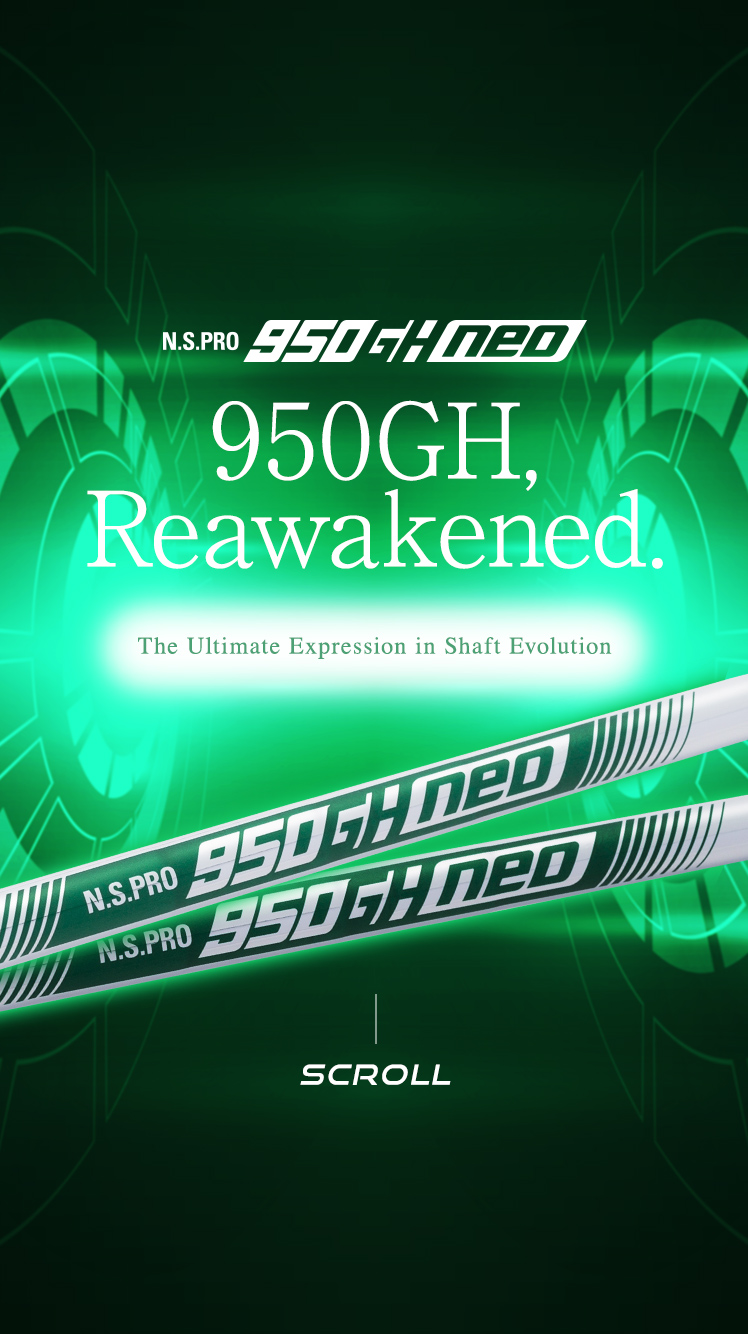 N.S.PRO is a world-class brand of golf shafts offering players exceptional distance, control and accuracy.
From beginners to professionals, the N.S.PRO series of shafts is praised for delivering remarkable maneuverability and distance as well as its easy-to-swing performance.
The N.S.PRO 950GH was first introduced in 1999 and is now celebrating its 20th year of supporting golfers worldwide.
Today, we are proud to present our N.S.PRO 950GH neo.
N.S.PRO 950GH neo is the perfect match for today's latest clubs thanks to its "flowing" kick-point configuration ensuring all-around flexibility at a light weight..
Experience a high-performance shaft like no other.
Carefully-designed Flow Kick-point Configuration

The lightweight all-around flexibility delivered by the flow kick-point configuration is a perfect match for today's leading clubs.
We've kept the comfortable swing feel of the classic N.S.PRO 950GH but added a sharp kick to give you optimal trajectory.

Maximizing the Latest in Iron Technology for the Perfect Whip

The firm mid-shaft construction accentuates the sharp reverse whip of the tip, while maintaining all-around shaft flexibility.
This shaft promotes the perfect spin rate even when matched with stronger loft iron heads that tend to inhibit spin.
The perfect tool for unlocking the potential of today's cutting-edge distance irons.

A Perfectly-measured Grip Size

We designed the grip end at a standard of .600" to allow for more gripping options, thereby creating a more stable, better-fitting grip.Enjoy a sharp yet comfortable feel.
Now, you can experience smooth wrist rotation even on irons with longer CG distances.

A New and Revitalized Logo

We have entirely redesigned the shaft logo for a new and improved look that sets this premium model apart from standard 950 types.
BRAND
HISTORY
N.S.PRO 950GH was first introduced in March 1999 and is now celebrating its 20th year on the market.
To date, we have sold more than 40 million N.S.PRO 950GH shafts
(based on a Nippon Shaft survey of total products shipped),
making this classic model a favorite of golfers the world over.
Here's a selection of ads offering a glimpse into this 20-year history.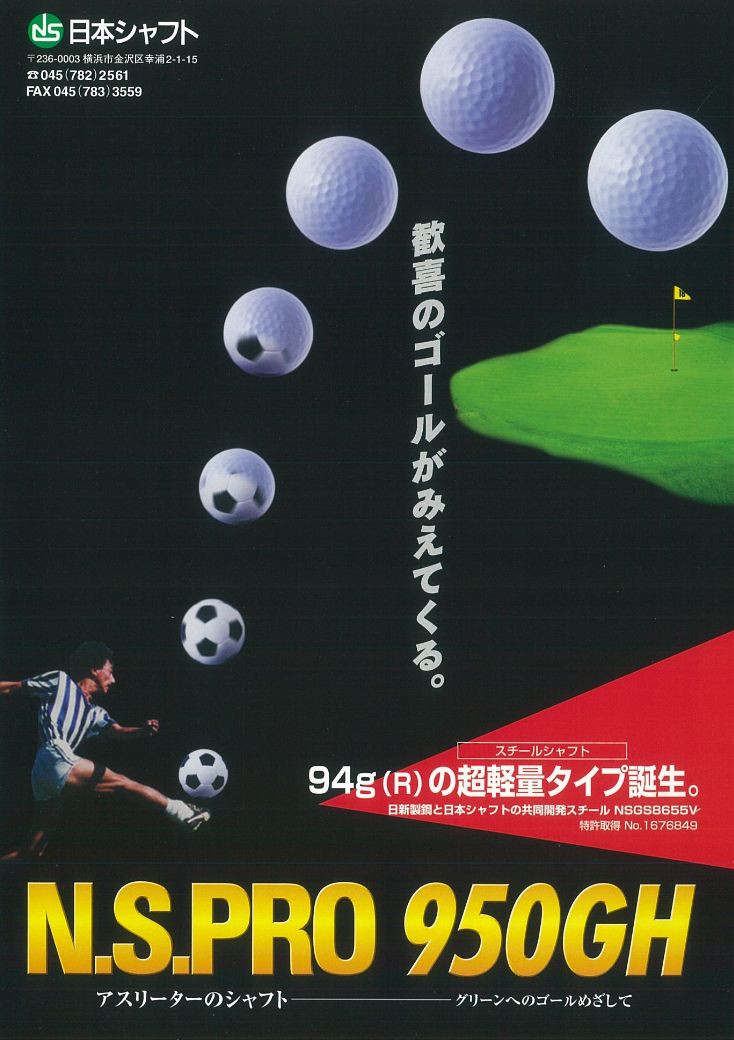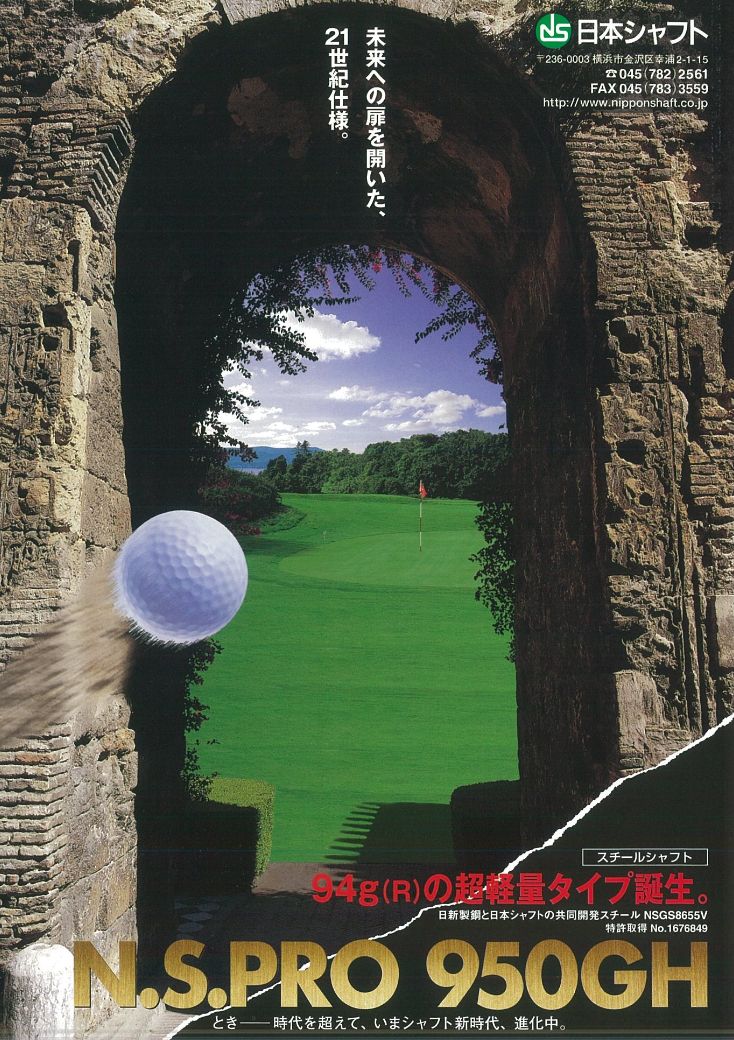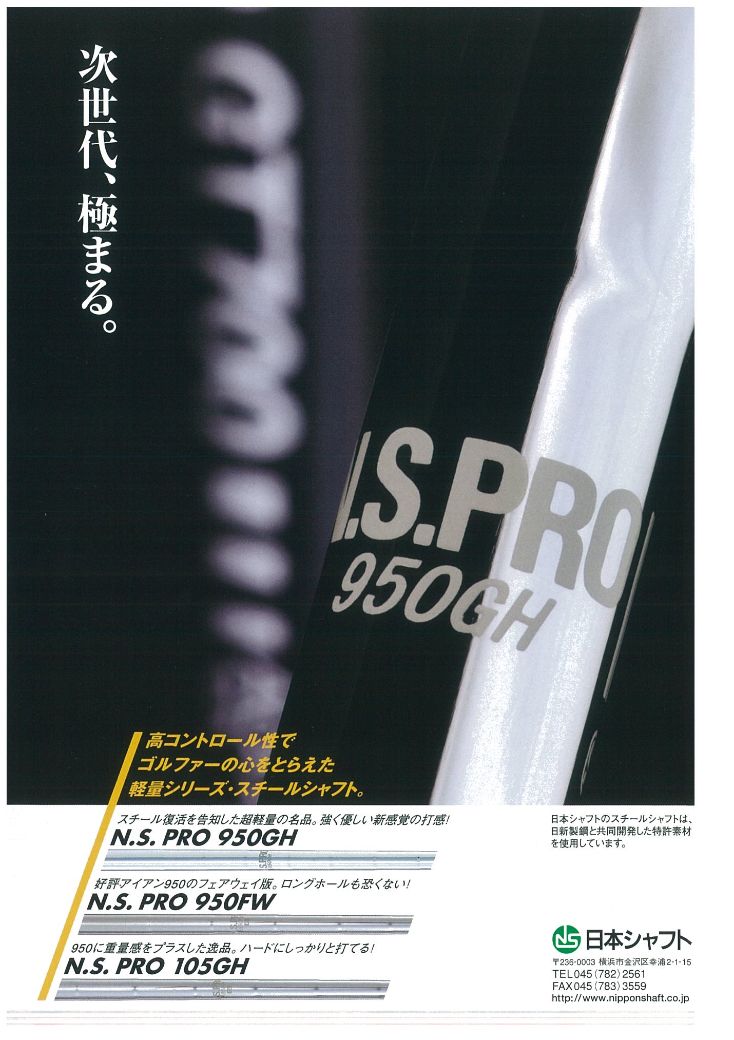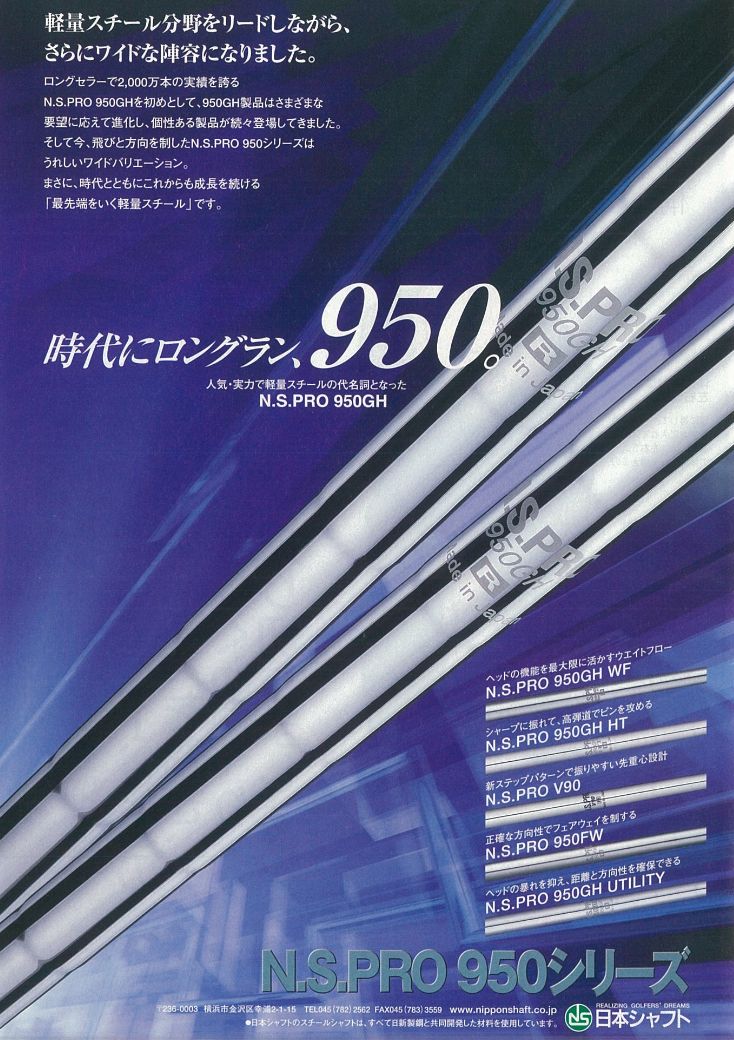 INTERVIEW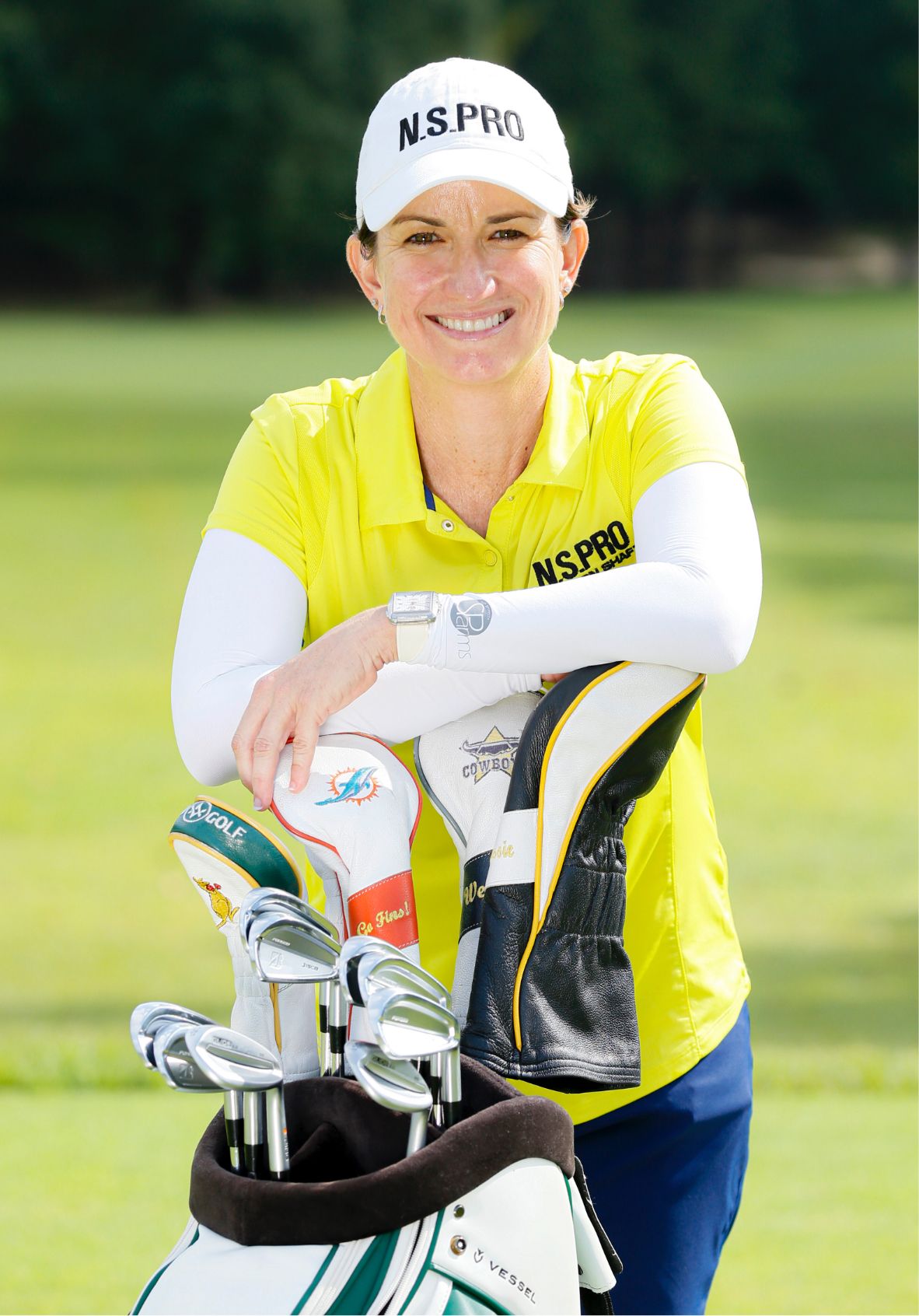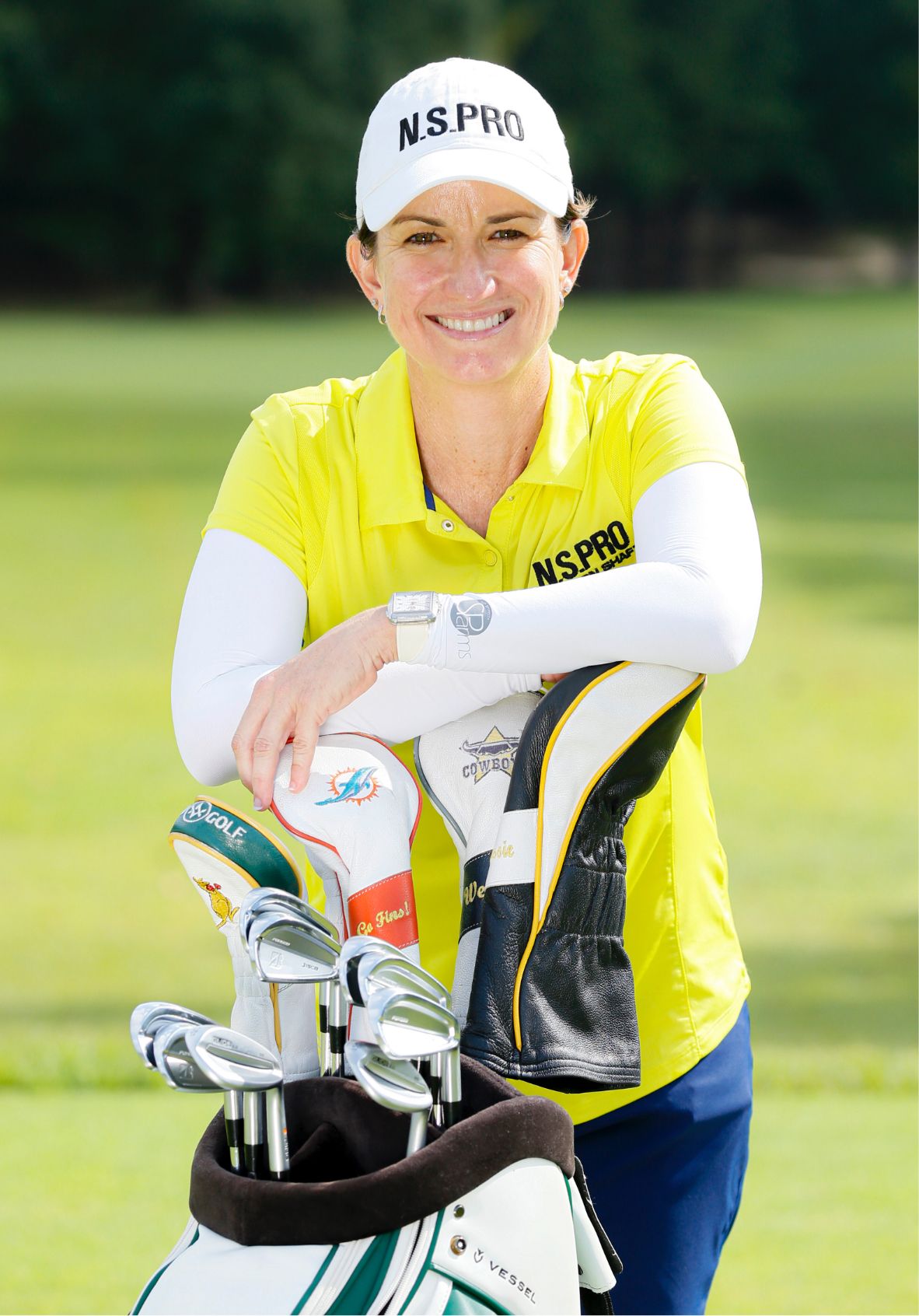 KARRIE WEBB
How did it feel to try out N.S.PRO 950GH neo?
The first shaft I used was N.S.PRO 1050GH. Compared to the 120g shafts I was using up until then, it delivered an incredible swing the whole way through that I still vividly remember to this day.
The N.S.PRO 950GH neo model recreates in every detail the exact sensation of that initial experience. I was again surprised by the shaft's sharp, superb follow through.
I first started using Nippon Shaft in 2002 and continue to use N.S.PRO today.Even though neo is 10g lighter, it offers a remarkably sharp and powerful light swing.neo promotes an easy load/release feel, yet is remarkably stable, avoiding excessive trajectory or spin despite its light weight.
Without sacrificing any stability or maneuverability, this shaft provides a solid, sharp swing for guaranteed impact and pinpoint accuracy.
In what areas do you feel N.S.PRO 950GH neo has most evolved?
Everyone has their own distinct swing. You need to find the shaft that best matches your individual swing style, head speed and strength.Selecting a shaft is like finding perfect-fitting clothes.
So there is no real reason to search for evolution in terms of the N.S.PRO's performance in comparison to other shafts.
That said, a golf club's true performance is only unleashed when the shaft is perfectly matched to the club head, so changes or enhancements to the head cannot be overlooked.
N.S.PRO 950GH neo offers performance designed to complement the unique features of today's latest and most popular iron heads.As irons get increasingly stronger lofts and lower CGs, even amateur golfers are now able to hit balls higher and farther with ease.However, most amateur golfers can't create enough head speed to ensure their ball stays on the green after a solid hit.
With N.S.PRO 950GH neo, the entire shaft provides a sharp, flexible bend that ensures the proper degree of spin even on club heads or balls that tend to reduce spinning.By combining the latest iron heads with the N.S.PRO 950GH neo shaft, you'll not only be able to hit higher and farther than ever before, but also make sure your ball stops just where you want it on the green. It'll help you capture that ideal iron shot with a distance and trajectory just like the pros.
What kind of golfer do you think N.S.PRO 950GH neo is best for?
I totally recommend this shaft to any golfer using an iron head with stronger lofts or larger, wide-sole heads.When hitting iron shots, the most important thing is being able to hit your ball the exact distance you desire.Unlike hitting with a driver, you need a club setup that ensures you can consistently and accurately hit the same distance, if you want to improve your score.
N.S.PRO 950GH neo features a sharp, superb follow through and flexibility that provides the perfect amount of spin, making it a perfect match for almost every amateur golfer.
For amateur golfers using lightweight steel shafts in the 90g range, I think the classic N.S.PRO 950GH model will provide the world-class reputation and performance you demand. This is true whether making contact on descending blows or when using compact heads on your irons.
One of the joys of golf is combining a variety of factors such as head shape, swing type and ball performance in order to find the club that perfectly complements your game.Discover the shaft that best matches your swing and reawaken that golfing spirit.