N.S.PRO Regio Formula MB
---
THE VERSATILE FORMULA MB MATCHES ANY HEAD AND SWING TYPE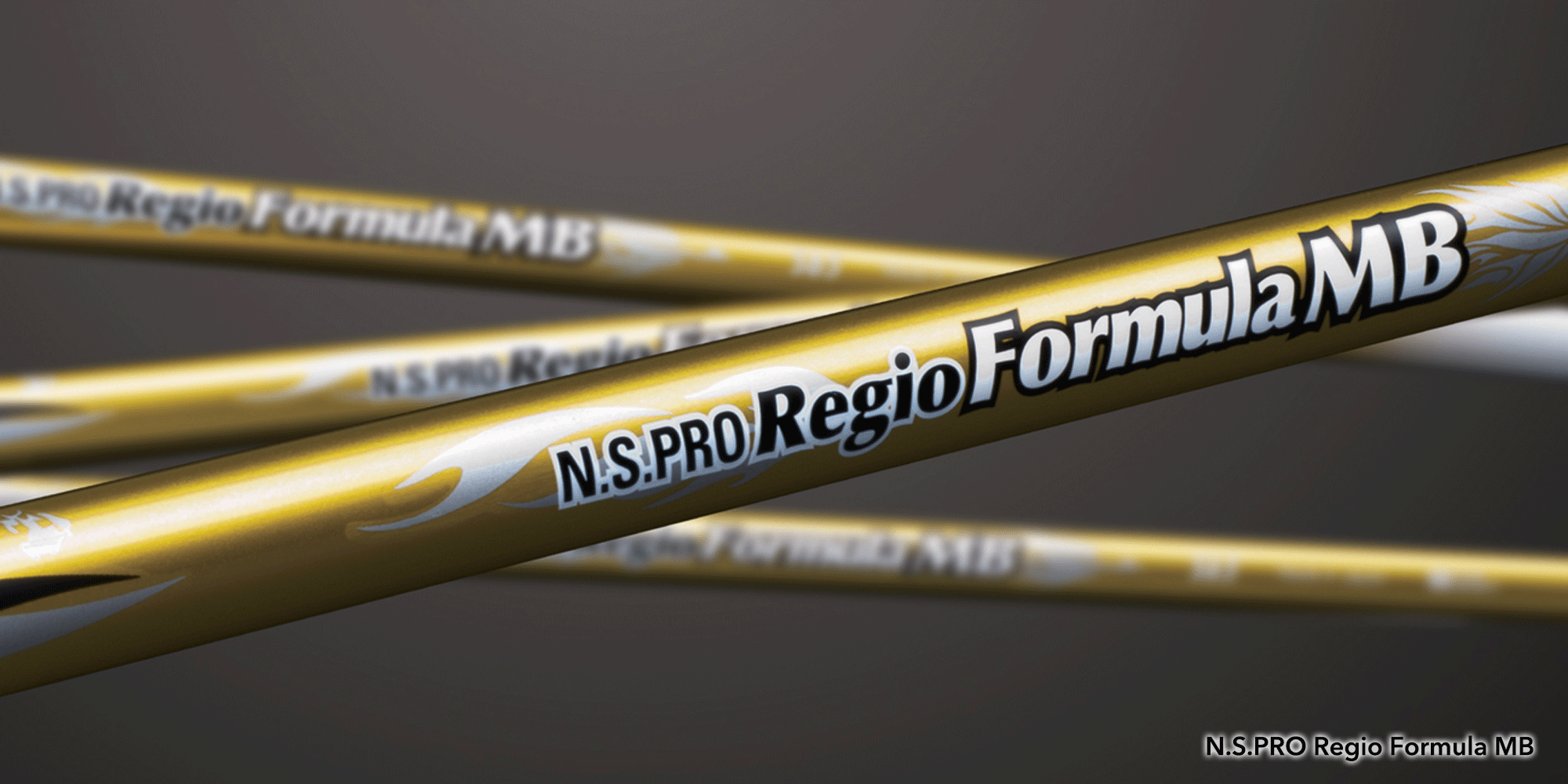 Why? N.S. PRO Regio Formula MB and the N.S. PRO MODUS³ Tour 105 and N.S. PRO MODUS³ Tour 125 have similar shaft bend profiles: Firm tip, Firm mid, Mid to Firm grip

Performance: Increased distance with improved initial velocity, decreased spin and optimized launch angle of trajectory.
---
Regio Formula MB series shafts flex moderately, yet they feature a slightly rigid grip that feels solid for an easier swing and a slightly rigid tip that suppresses the inaccuracy and variation at impact.

Spin generated trajectory is prevented while allowing a high-angle trajectory and powerful carry. The versatile Formula MB matches any head and swing type, allowing anyone to swing with abandon while delivering maximum potential to the ball.

Seven central layers of prepreg and an ultra-high-elasticity 80t sheet with high rebounding force produce high trajectory through strong release power. Shaft strength and acceleration feel are also enhanced by an ultra-high-elasticity 90t sheet in the grip area. To strengthen the impact feel, we also added a high-strength material from the space industry, called T1100G, to the tip end. This merging of various high-functionality materials robustly converts swing energy to maximum carry distance.
Model

Flex

Length (IN)

Weight (g)

Balance Point (%)

Torque (°)

Kick Point

SHAFT DIAMETER (IN)

Butt

Tip

N.S.PRO
Regio
Formula MB
TYPE55

DRIVER

R2

R

S

N.S.PRO
Regio
Formula MB
TYPE65

DRIVER

R

46

66.5

53.0

3.3

Mid/Grip

0.606

0.335

S

46

68.5

53.3

3.3

Mid/Grip

0.608

0.335

X

46

70.5

53.5

3.3

Mid/Grip

0.610

0.335

N.S.PRO
Regio
Formula MB
TYPE75

DRIVER

S

46

79.0

54.5

2.8

Mid/Grip

0.612

0.335

X

46

81.0

54.6

2.8

Mid/Grip

0.614

0.335
TARGET PLAYER: